Behind the Scenes – How we put our podcast together
September 27, 2021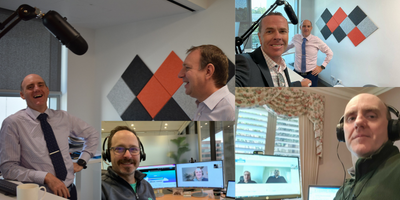 The gear
You don't need a lot of gear to get started. That's one of the great things about podcasts. We like to keep it simple and make it as easy as possible for our presenters and guests. We enjoy the interaction of being face to face. Because we have a simple set up and don't use multiple microphones and mixers, we need a microphone that provides good sound quality from multiple speakers. We've found the Blue Yeti Microphone does the job when we have multiple speakers in the same room. Using a Microphone boom arm, like the RODE PSA1 Professional Studio Boom Arm helps us to easily adjust the position of the microphone for the best sound.
When recording remotely we find it best to use either a separate microphone and headphones, or the earbuds that come with your mobile phone. The built in laptop microphones don't provide great quality, and the headphones help to eliminate echo. Although the Blue Yeti Microphone is good when we are recording multiple people in the same room,  it does pick up a lot of background noise (especially when recording at home during lockdown). So if upgrading your microphone you may want to go with a dynamic microphone which is better at ignoring background noise.
The Samson Q2U has been widely recommended as a good entry-level microphone.
The process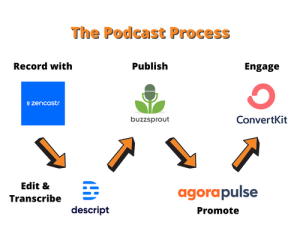 Zencastr
Not all of our guests are able to join us in the studio (office) to record face to face. The best tool we have used for recording remotely is Zencastr. With Zencastr we get studio quality sound for our remote Podcast recordings. Zencastr records each guest locally from their own computer in studio quality audio and video. The host then receives separate high quality tracks for each guest! No more dropouts due to a bad connection. Nothing but crystal clear audio and video.
Simply send a link and receive a separate track per guest.
Try it free at Zencast.com
Descript
We use Descript for editing and transcribing. Descript is a collaborative audio/video editor that works like a doc. It includes transcription, a screen recorder, publishing, and some mind-bendingly useful AI tools. Edit audio by editing text. Drag and drop to add music and sound effects.
Descript makes working with audio as easy as working with text. If you know how to edit a document, you already know how to use Descript. It's that simple. Unlike DAWs like Audacity, GarageBand, or Adobe Audition, Descript offers an entirely new way of working with audio. Record into Descript, and we transcribe it automatically. Then simply edit the transcript — cut, paste, and delete — and Descript edits the underlying audio to match.
Buzzsprout
We use Buzzsprout to publish our podcast and it could not have been easier.
Buzzsprout is hands down the easiest and best way to launch, promote, and track your podcast. Your show can be online and listed in all the major podcast directories (like Apple Podcasts, Spotify, Google Podcasts, and more) within minutes of finishing your recording.
Podcasting isn't hard when you have the right partners, and the team at Buzzsprout is passionate about helping you succeed. Join over a hundred thousand podcasters already using Buzzsprout to get their message out to the world.
Start with some gear that you already have, and a quiet space.
If you want to upgrade, Buzzsprout has tons of guides to help you find the right equipment at the right price.
Buzzsprout gets your show listed in every major podcast platform.
You'll get a great looking podcast website, audio players that you can drop into other websites, detailed analytics to see how people are listening, tools to promote your episodes, and more.
Podcasting isn't hard when you have the right partners.
The team at Buzzsprout is passionate about helping you succeed.
Join over a hundred thousand podcasters already using Buzzsprout to get their message out to the world.
Following this link let's Buzzsprout know we sent you, gets you a $20 Amazon gift card if you sign up for a paid plan, and helps support our show.
Agorapulse
We use Agorapulse to create, schedule, post and analyze all of our social media. With Agorapulse we can create a post and add to multiple channels so we can share it far and wide.
Agorapulse makes it quick and easy to manage our content marketing planning and processes – so we can focus on strategy and creativity.
ConvertKit
We've been using ConvertKit to build new forms and landing pages to grow our email list so we can share new content and resources with business owners.
It's the easiest way to launch your next creative project!
Sign up through the link below and you'll unlock 1,000 subscribers for free.
Note: Some of the resources shown may be affiliate links, meaning we receive a commission (at no extra cost to you) if you use that link to make a purchase. We really appreciate it when you use our links to check out and purchase some of the tools we use.  It helps cover our costs.
Disclosure: As an Amazon Associate we earn from qualifying purchases. We are also affiliates of Buzzsprout and Descript.